Localized electrical cryotherapy machine
Cryo Flow is a electrical cryotherapy device and completely nitrogen-free.
Our innovative cryotherapy system allows to evenly distribute the cold air flow over the surface of the skin with a point and controlled dosage to achieve the desired effect of the procedure for athletes recovery or laser treatments.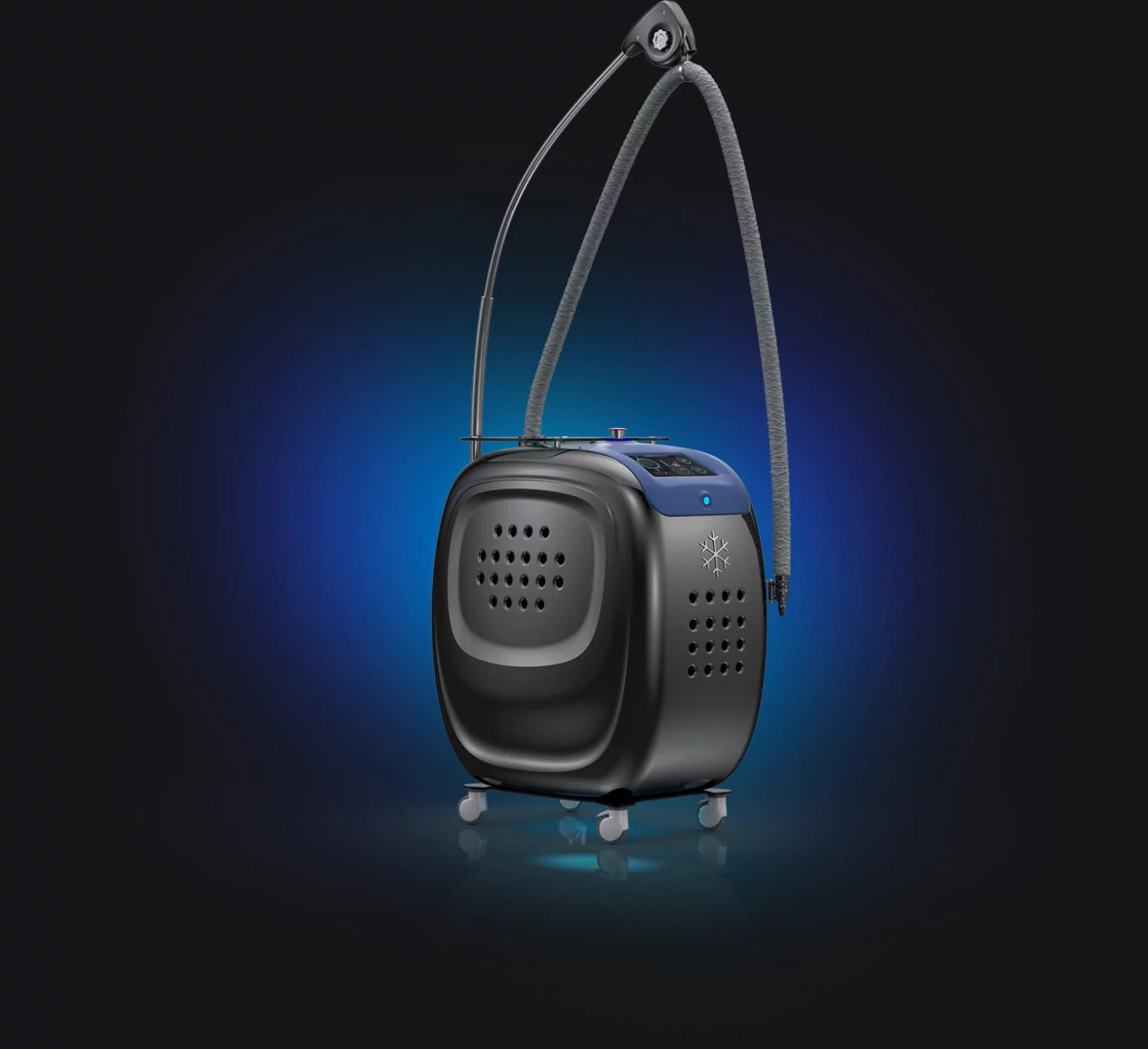 Cold air therapy equipment
Cryo Flow is a modern device that decrease body temperature in order to reduce inflammation and soreness, increase collagen production, boost immune system, help to minimize chronic stress, relax muscles, rise level of body energy, lower back pain. This is not medical equipment and used as wellness and recovery purposes in sport and beauty industry.
Cold air from electric power
This is advanced refrigeration technology to produce cool blowing. Device uses an air compressor that takes the atmospheric air in, compresses it and finally releases by the handle to the surface area of the body.
Cryo Flow is equipped with high power compressor which makes the system work for a long period of time continuously (Keeping the lowest temperature can give up to 2 hours treatment under 6th level of fan speed)
Cold air cooling is widely used in sport and wellness to reduce muscle pain and get muscle relaxation.
Unlike other cooling methods, such as contact cooling, cryogen spray or ice packs, cold air blowing is safety recovery treatment with no contact to skin.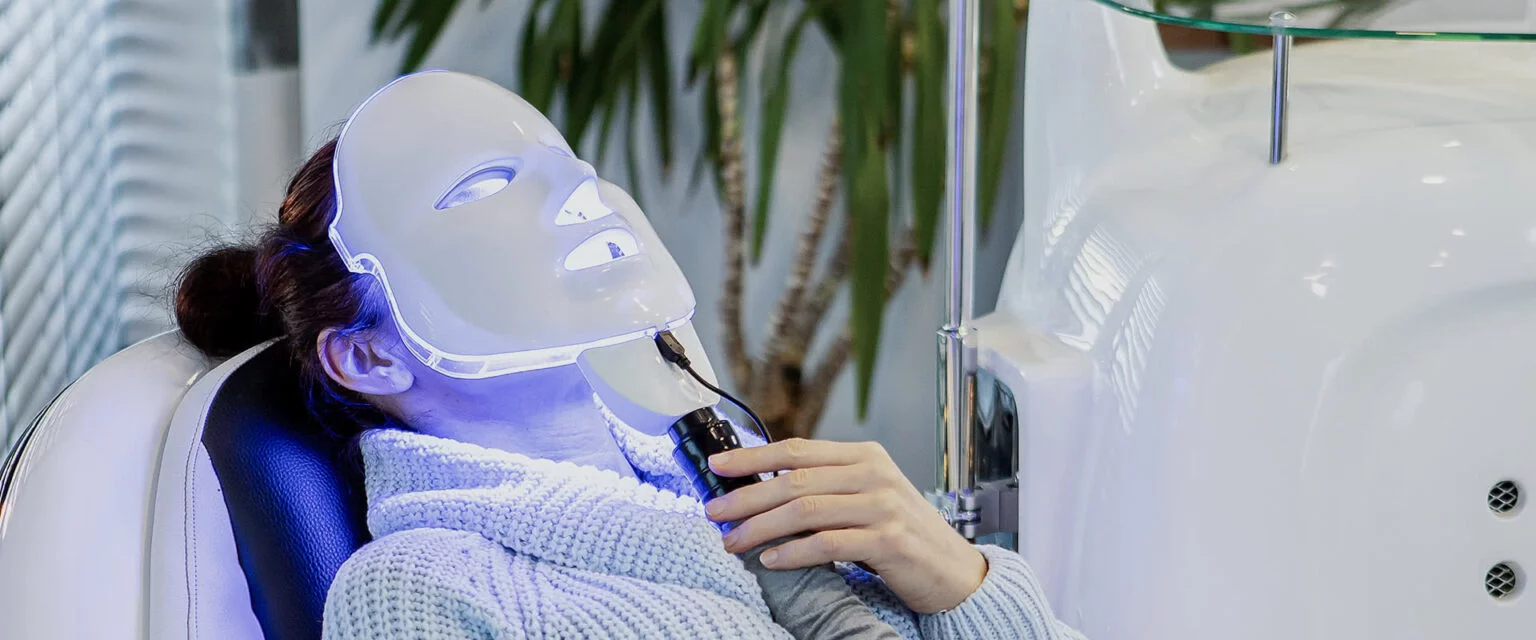 Cryo Flow + LED therapy for beauty and slimming
This non-invasive Botox alternative is designed to combat ageing and inflammation. The process involves cooling the face and neck area with a controlled beam of vaporised cold air from our direct application CRYO FLOW machine. This is followed by an LED light therapy session to supercharge your collagen production and anti-ageing effects.
LED therapy facial combines 6 colours LED light which has different wave lengths for light treatment for skins problems, helping to regain a youthful look.
The LED lamp has a significant effect on the regeneration of skin with signs of aging and age-related collagen loss. It also improves the condition and tension of the skin and soothes sunburn.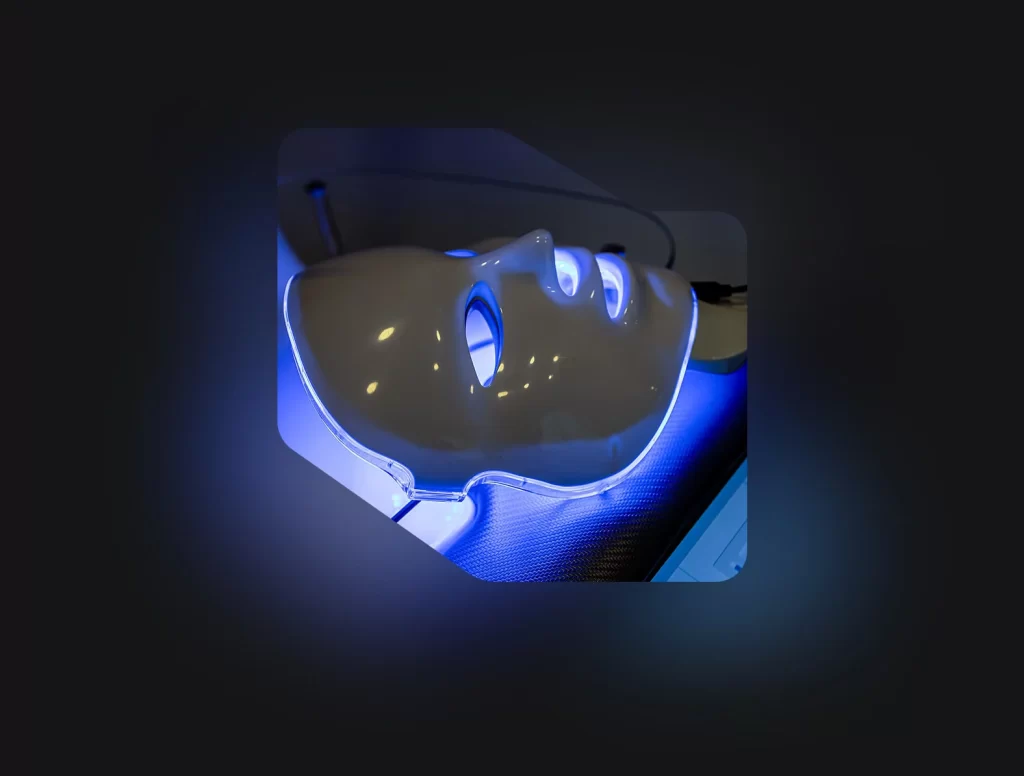 Stimulates the skin to intensively produce collagen and elastin, thanks to which it reduces wrinkles and improves skin firmness, it also helps to get rid of puffiness under the eyes. It has anti-inflammatory properties and reduces redness, thanks to which it is also helpful in regenerating the skin after invasive procedures.
Supports the treatment of acne lesions, and also prevents the formation of new ones – to a very large extent destroys bacteria. During the treatment, the mask regulates the work of the sebaceous glands and reduces enlarged pores.
Improves blood circulation and has a relaxing effect on the skin. Supports the wound healing process, blocks the formation of melanin (spots, freckles and discoloration). It greatly reduces wrinkles and scars, and stimulates the lymph glands.
It acts on melanocytes, which are responsible for the color of the skin and hair in our body. During the treatment, it brightens and reduces discoloration, freckles and stains arising in old age; rejuvenates, nourishes the skin and heals irritations. The use of the mask also contributes to the improvement of blood microcirculation.
Penetrates very deeply into the skin, speeds up the metabolism in the body, removes wrinkles; the treatment is recommended especially for people who have problems with skin firmness.
The treatment provides energy to the cellular energy center, increases the amount of active oxygen, nourishes and oxygenates the cells. Supports immune functions, slows down the aging process as it stimulates collagen synthesis in the skin.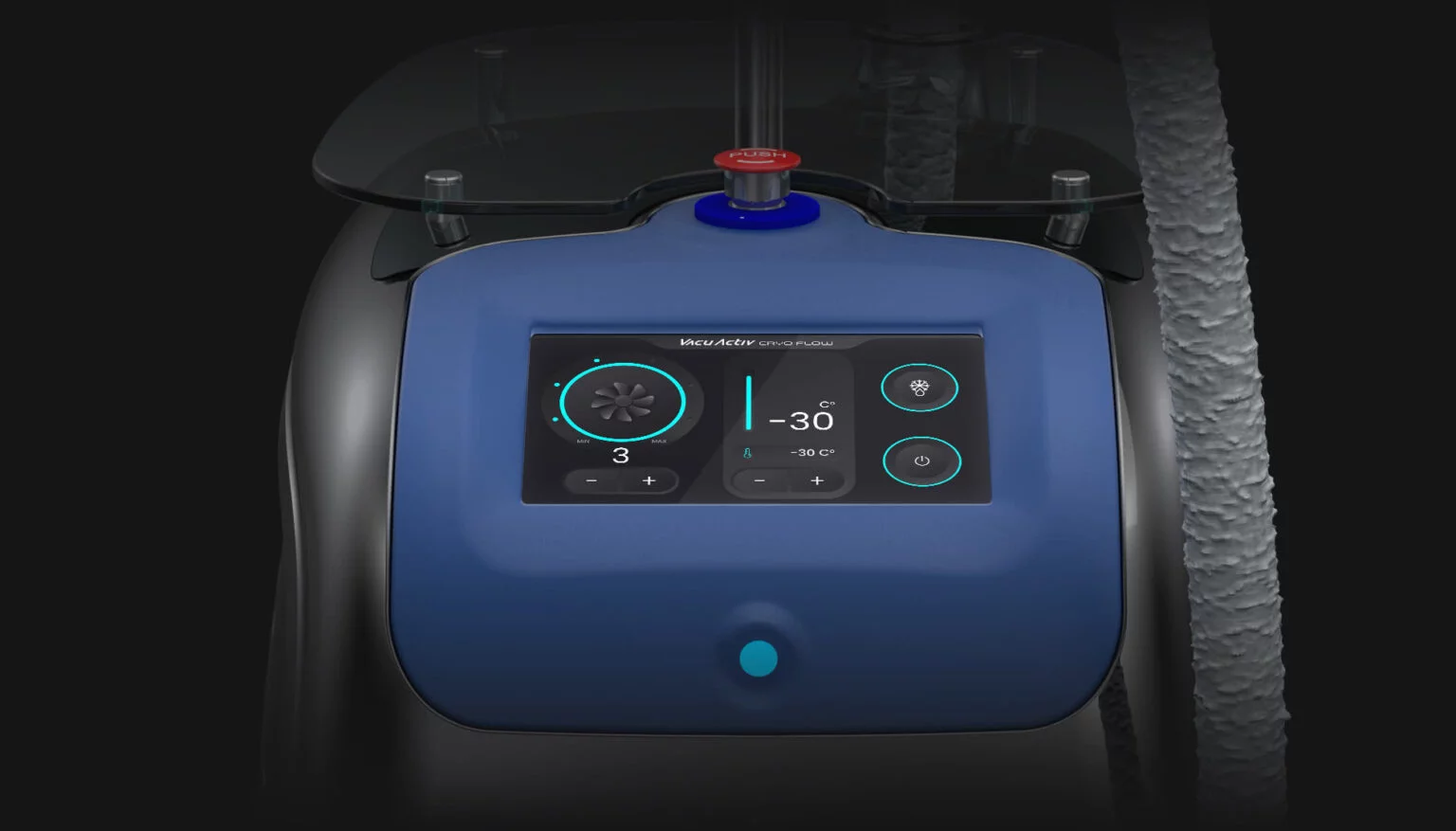 Well-thought-out device concept
For us, the safety of our products is paramount, so we have equipped Cryo Flow with self defrosting system for best cooling performance and installed self water drainage system to make cleaning more safe and comfortable. The device is equipped in a automatic fuse to protect it and make the treatment procedures secured. The whole housing and the device is also thermally protected.
Innovative appearance and solutions
In addition to the modern and innovative appearance of the device, we have installed 10.1-inch multi color touchscreen for display intuitive user interface and easy control of the device functions and features. Our machine gives you the ability to manage various options like: Air speed adjustments (from 1 to 6), set the temperature from -4°C to -30°C, quick and easy defrost button.
Efficient closed cooling circuit
Ambient room air is filtered and cooled down to -30°C by a closed loop cooling circuit.
Thanks to that we made cost efficient machine with no consumable or additional costs.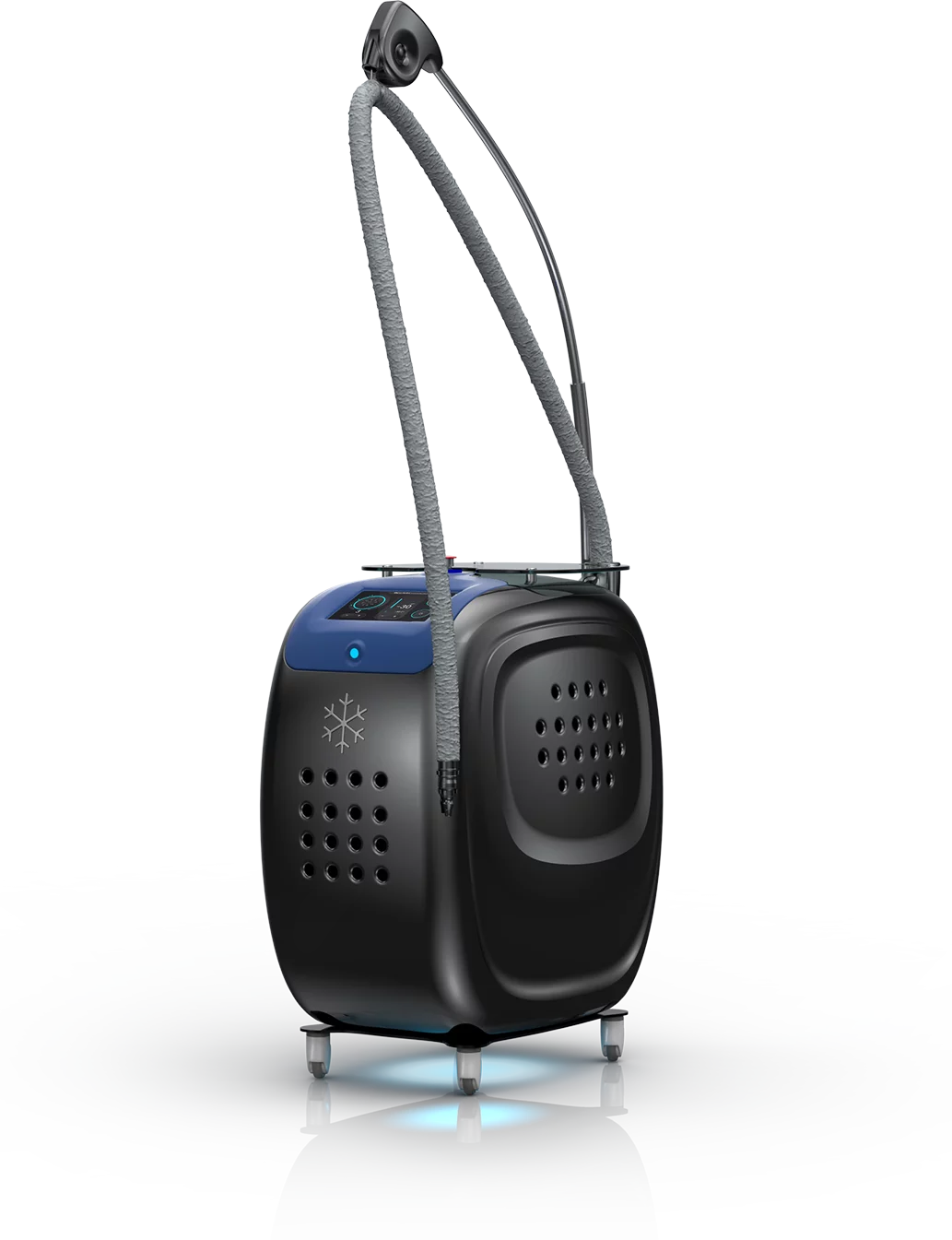 Help to reduce muscle pain
Protects the tissues & skin after sport injuries
Minimize possible inflammations and/or the risk of swelling after treatment
Helps to prevent skin infection
Size
Width:57,4 cm (22,6 inches)
Depth:88,1 cm (34,69 inches)
Height:83,9cm (33,03 inches)
Power supply
220VAC / 50Hz / 3A
110VAC / 60Hz / 3A
Type: Air cooling system
Power supply:
220VAC / 50Hz / 3A
110VAC / 60Hz / 3A
Weight: 62 kg
Power consumption: 1500W
Touch display size: 10.1-inch
Temperature range: -30°C to -4°C
Fans power levels: 6
Cooling tube length: 2m